Try it now, it's free!
Let us take care of
printing your invoices !
E-racuni.com is the only invoicing software solution that will print, fold and put your invoices into envelopes ready to be mailed to your clients. Plus, you can also print other types of documents like estimates, delivery notes, business letters, payment reminders, ...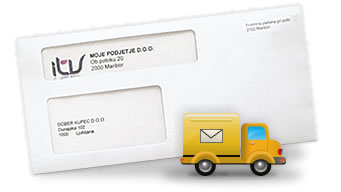 Give your correspondence a professional look!
We use quality printers, folding machines and envelopes with a double window. The print layout of your name and address can be personalized with your colours and logos. Furthermore, we also offer the possibility of printing in black and white to reduce the cost of printing.
Sending with a clikc of a mouse!
All requests received before 16:00 on workdays will be processed and mailed the same day.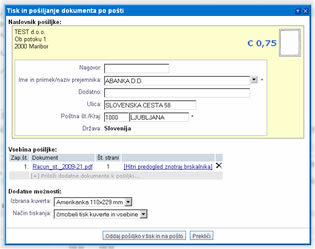 Attach memos to your invoices
When creating a print request you can also attach additional memo to the invoice. Any PDF file can be attached to the invoice. The software will automatically calculate total cost of printing and mailing based on the number of pages. The total cost will be subtracted from your account after submitting the request.
Take control of your printing and mailing costs
All printing requests are tracked together with their costs. At the end of the month you will always know how much it costs you to print and send invoices.
Try it now, it's free!